Light in Action Ministry Visiting West Houston Bible Church
Sunday, March 12, we will be blessed with a presentation by members of Light in Action, an evangelistic ministry from Brazil that has been hosting Jeff Phipps and Doug Karn during their missionary outreach in Brazil.
In Brazil Light in Action is producing an evangelistic video series called Tetelestai. Tetelestai is an 11-episode cinematic Bible teaching series. Through documentary style teaching, the eternal story of redemption is carefully explained from Creation to Christ … a story that reveals a God who passionately loves humanity and will pay the ultimate price for our rescue. By following Jesus' example in Luke 24, they highlight essential Old Testament narratives and the truths, pictures, and prophecies they reveal concerning the coming Messiah; and their fulfillment in the person of Jesus Christ as told in the Gospels.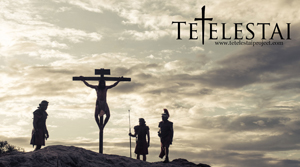 This is series has been produced with and through the church—with over 700 volunteer actors. And now as we are finishing post-production we are moving forward to work with and through the church to get this eternal story of redemption to those who have never heard. The original English version of Tetelestai is aimed to be a tool for evangelism and/or discipleship through one-on-one encounters, small groups, online and mobile studies, broadcast, radio, and more.
Light in Action is also focusing on dubbing the series into major trade languages, producing a deaf version, and utilizing multiple broadcast, social media, and digital platforms in order to help get this message of life out.
You can view a trailer for the Tetelestai series online at www.tetelestaiproject.com.
Please plan to stay for a few minutes after our Sunday, March 12, worship service to be inspired by what this team is doing.
Upcoming Chafer Conference
The annual Chafer Theological Seminary Conference hosted by West Houston Bible Church is right around the corner. We are in need of church members to volunteer their services to help make this one of the most hospitable conferences ever. Please contact Mark Friedrick or Franklin Nduku if you'd like to volunteer to be a driver between WHBC and the hotel. We are also in need of help for the kitchen. Please contact Roberta Beaver if you'd like to help with hostessing/kitchen activities.
The dates for this year's conference are Monday, March 13 through Wednesday, March 15. More information is available at www.deanbibleministries.org/chafer.
Men's Prayer Breakfast
The monthly Men's Prayer Breakfast will be held Saturday, March 18 at 7:30 AM in the WHBC fellowship hall. Come prepared for a good time of fellowship and prayer.
Save the Date for the Annual Church Picnic
April 15 does not have to be so taxing if you join other members of WHBC for lots of fun at our annual church picnic at the Salas Ranch. We'll be providing more details as we get closer to the event.